Wide-Span heavy duty shelving systems
Downloads
Request For Quote
COMPONENTS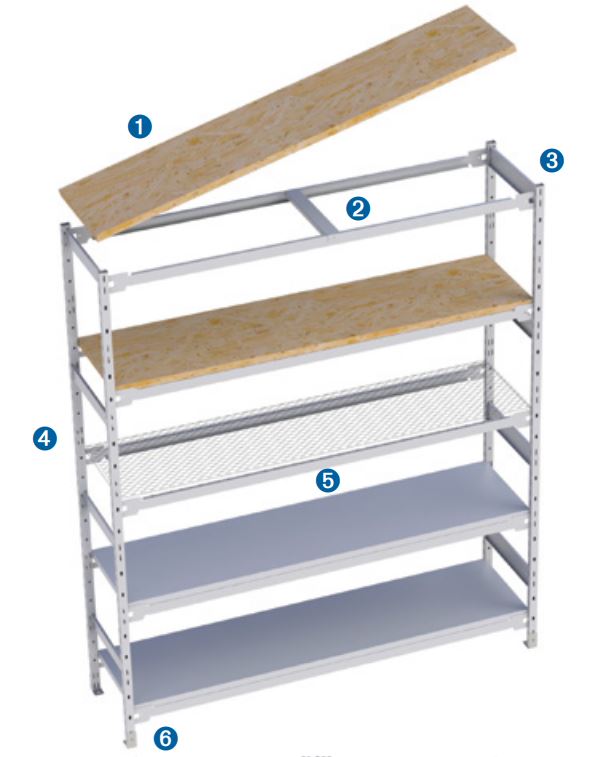 1-WOOD SHELF
 : Wood shelves for our wide span line are available in a multitude of sizes to meet your requirements. We also ofer wire mesh or solid steel shelves.
2-TIE BAR : Tie bars are designed to avoid buckling on longer beams. Placed between the two beams, they will also increase the capacity of the level.
3- FRAME CONNECTOR : Frame connectors are used to connect posts together from front to back. Refer to capacity charts to determine the number of connectors required.
4-POST : A 14 gauge roll formed post with 2" slots to allow easy adjustability of the unit's height. Splice posts together to create a mezzanine catwalk system.
5-BEAM : 2" profle beams made of 13 gauge steel are the main shelf support. Available in a variety of widths and capacities..
6-FOOT PLATE : Foot plates are used to anchor the units to the foor. Highly recommended for units of 8 feet or taller.
12 Gauge Steel Post Metalware Wide Span 36'', Pale grey
---
---
---
---
---
---
---
---
---
---
---
---
---
12 Gauge Steel Post Metalware Wide Span 48'', Pale grey
---
---
---
---
---
---
---
---
---
---
---
---
---
12 Gauge Steel Post Metalware Wide Span 60'', Pale grey
---
---
---
---
---
---
---
---
---
---
---
---
---
12 Gauge Steel Post Metalware Wide Span 72'', Pale grey
---
---
---
---
---
---
---
---
---
---
---
---
---
12 Gauge Steel Post Metalware Wide Span 84'', Pale grey
---
---
---
---
---
---
---
---
---
---
---
---
---
12 Gauge Steel Post Metalware Wide Span 96'', Pale grey
---
---
---
---
---
---
---
---
---
---
---
---
---
12 Gauge Steel Post Metalware Wide Span 108'', Pale grey
---
---
---
---
---
---
---
---
---
---
---
---
---
12 Gauge Steel Post Metalware Wide Span 120'', Pale grey
---
---
---
---
---
---
---
---
---
---
---
---
---
Frame Connector Metalware Wide Span 12'', Pale Grey
---
---
---
---
---
---
---
---
---
---
---
---
---
Frame Connector Metalware Wide Span 15'', Pale Grey
---
---
---
---
---
---
---
---
---
---
---
---
---
Frame Connector Metalware Wide Span 16'', Pale Grey
---
---
---
---
---
---
---
---
---
---
---
---
---
Frame Connector Metalware Wide Span 18'', Pale Grey
---
---
---
---
---
---
---
---
---
---
---
---
---
Frame Connector Metalware Wide Span 24'', Pale Grey
---
---
---
---
---
---
---
---
---
---
---
---
---
Frame Connector Metalware Wide Span 30'', Pale Grey
---
---
---
---
---
---
---
---
---
---
---
---
---
Frame Connector Metalware Wide Span 32'', Pale Grey
---
---
---
---
---
---
---
---
---
---
---
---
---
Frame Connector Metalware Wide Span 36'', Pale Grey
---
---
---
---
---
---
---
---
---
---
---
---
---
Frame Connector Metalware Wide Span 42'', Pale Grey
---
---
---
---
---
---
---
---
---
---
---
---
---
Frame Connector Metalware Wide Span 48'', Pale Grey
---
---
---
---
---
---
---
---
---
---
---
---
---
Tie Bar Metalware Wide Span 12'', Pale Grey
---
---
---
---
---
---
---
---
---
---
---
---
---
Tie Bar Metalware Wide Span 15'', Pale Grey
---
---
---
---
---
---
---
---
---
---
---
---
---
Tie Bar Metalware Wide Span 16'', Pale Grey
---
---
---
---
---
---
---
---
---
---
---
---
---
Tie Bar Metalware Wide Span 18'', Pale Grey
---
---
---
---
---
---
---
---
---
---
---
---
---
Tie Bar Metalware Wide Span 24'', Pale Grey
---
---
---
---
---
---
---
---
---
---
---
---
---
Tie Bar Metalware Wide Span 30'', Pale Grey
---
---
---
---
---
---
---
---
---
---
---
---
---
Tie Bar Metalware Wide Span 32'', Pale Grey
---
---
---
---
---
---
---
---
---
---
---
---
---
Tie Bar Metalware Wide Span 36'', Pale Grey
---
---
---
---
---
---
---
---
---
---
---
---
---
Tie Bar Metalware Wide Span 42'', Pale Grey
---
---
---
---
---
---
---
---
---
---
---
---
---
Tie Bar Metalware Wide Span 48'', Pale Grey
---
---
---
---
---
---
---
---
---
---
---
---
---
13 Gauge Steel Beam Metalware Wide Span (1400 lb*) 36'', Pale Grey
---
---
---
---
---
---
---
---
---
---
---
---
---
13 Gauge Steel Beam Metalware Wide Span (1340 lb*) 42'', Pale Grey
---
---
---
---
---
---
---
---
---
---
---
---
---
13 Gauge Steel Beam Metalware Wide Span (1200 lb*) 48'', Pale Grey
---
---
---
---
---
---
---
---
---
---
---
---
---
13 Gauge Steel Beam Metalware Wide Span (960 lb*) 60'', Pale Grey
---
---
---
---
---
---
---
---
---
---
---
---
---
13 Gauge Steel Beam Metalware Wide Span (820 lb*) 66'', Pale Grey
---
---
---
---
---
---
---
---
---
---
---
---
---
13 Gauge Steel Beam Metalware Wide Span (800 lb*) 72'', Pale Grey
---
---
---
---
---
---
---
---
---
---
---
---
---
13 Gauge Steel Beam Metalware Wide Span (500 lb*) 96'', Pale Grey
---
---
---
---
---
---
---
---
---
---
---
---
---
Metalware Wide Span Foot Plate
---
---
---
---
---
---
---
---
---
---
---
---
---
---
---
---
---
---
---
---
---
---
---
---
---
---
Metalware Wide Span Splice Bracket
---
---
---
---
---
---
---
---
---
---
---
---
---
Mezzanine — 36'' Floor Support Metalware Wide Span
---
---
---
---
---
---
---
---
---
---
---
---
---
Mezzanine — 42'' Floor Support Metalware Wide Span
---
---
---
---
---
---
---
---
---
---
---
---
---
Mezzanine — 48'' Floor Support Metalware Wide Span
---
---
---
---
---
---
---
---
---
---
---
---
---
Mezzanine — 36'' Transversal Support Metalware Wide Span
---
---
---
---
---
---
---
---
---
---
---
---
---
Mezzanine — 42'' Transversal Support Metalware Wide Span
---
---
---
---
---
---
---
---
---
---
---
---
---
Mezzanine — 48'' Transversal Support Metalware Wide Span
---
---
---
---
---
---
---
---
---
---
---
---
---